MyMonthlyCycles.com Celebrates 10 Years on the Web!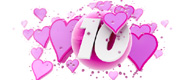 When we launched MyMonthlyCycles® in 2003, we set out to build a versatile, comprehensive collection of tools for women everywhere, ourselves included, to better manage and understand her unique monthly cycle patterns. Based on your feedback, we are proud to know that we accomplished these objectives!
Throughout this past decade, women world-wide have been using MyMonthlyCycles for so many reasons, including proactively monitoring cycle health, working through cycle issues with one's OB/Gyn, and trying to conceive!
"MyMonthlyCycles has been the greatest tool for me to communicate with my doctors." (Member Julie, California)
"Every woman should know her own cycles regardless of what they are trying to do reproductively...MyMonthlyCycles supports that." (Member Kelly, Virginia)

We're also tickled pink (and baby blue!) to report that, over the years, our daily Inbox has literally flowed over with the good news from members who were pregnant, and letting us know how MyMonthlyCycles fertility tools helped! Congratulations, again, to all! And through these years, as your little ones have grown to toddlers, tweens and beyond, MyMonthlyCycles, too, has grown-up:
We've continued to enhance MyMonthlyCycles core tracking tools, adding more free menstrual cycle related trackers, calculators and reminders, more self-quantifying free charting tools, mobile tools, pregnancy tracking, community shares - to name just a few!
In 2007, MyMonthlyCycles little sister, WhenMyBaby.com, debuted, providing tons of innovative and helpful free conception and pregnancy tools. Reminder: use Stickies to leverage your MyMonthlyCycles cycle data in WhenMyBaby!!
Fast forward to 2013: We've recently launched binfy.com (tools for being fine), offering extremely flexible, free health trackers and charting, beneficial to all who want to monitor a broad range of health conditions.
Moving forward, we have a long list of innovative, first-ever, digital tools for both WhenMyBaby and MyMonthlyCycles.com. Stay tuned!
MyMonthlyCycles Gift to You!
To celebrate 10 years on the web, we're setting MyMonthlyCharts™ and Premium Fertility FREE!
MyMonthlyCharts - Instantly see your cycle patterns and trends.

Premium Fertility - An essential tracking and charting tool to organize and manage your fertility cycles - no matter what your fertility goals!
Effective June 15, 2013, MyMonthlyCharts is available to all members for free, as is Premium Fertility for qualifying members (you must be 18 or older). This is not a trial - they're free - forevermore!
Visit more free tracking and charting for me for complete details!
Thank you everyone for visiting and using MyMonthlyCycles over the past 10 years.

Enjoy, be in great cycle health, and tons of baby dust to all TTCers,

MyMonthlyCycles.com